Blog
Bitt engages stakeholder organisations to bring mMoney to MSMEs
Bitt engages stakeholder organisations to bring mMoney to MSMEs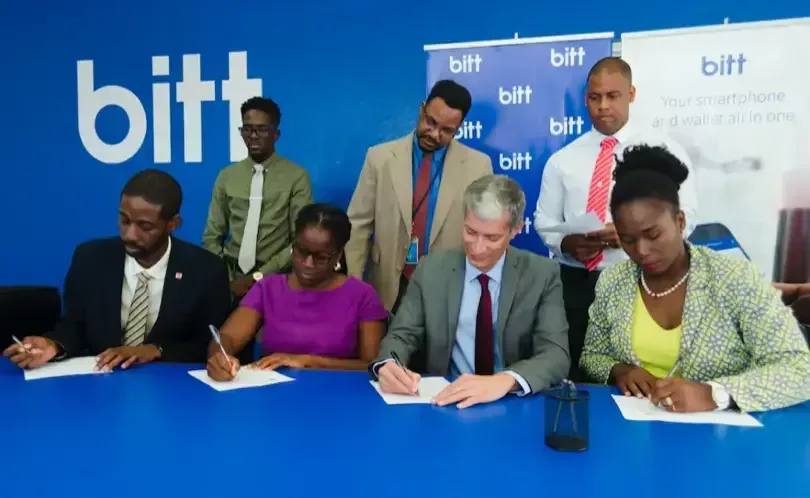 Bridgetown; BARBADOS; April 26, 2018: Bitt Digital Inc., a local financial technology company, which recently launched its mMoney mobile wallet and merchant applications, has now signed a memorandum of understanding (MOU) with several entities that maintain special relationships with micro, small and medium enterprises (MSMEs).
Through its mMoney applications, Bitt facilitates digital payments to and from smartphones and other mobile devices, and expects entrepreneurs and MSMEs to benefit significantly from the technology. "Our applications not only support increased financial inclusion, but also give MSMEs the capacity to leverage our innovative payment mechanisms, which are faster, more secure, more inclusive, and more cost effective than the traditional options" explained Rawdon Adams, CEO of Bitt.
After a number of private technology demonstrations, workshops and almost four months of dialogue, the Barbados Agency for Micro Enterprise Development Limited (FundAccess), Barbados Coalition of Service Industries (BCSI), Barbados Entrepreneurship Foundation (BEF), Barbados Investment and Development Corporation (BIDC), Barbados Manufacturers Association (BMA), Barbados Youth Business Trust (BYBT), Small Business Association (SBA), Student Entrepreneurial Empowerment Development Project of UWI (SEED) and Ten Habitat have agreed to work with Bitt on initiatives to empower MSME growth and capacity for e-commerce.
Credited with bringing the parties together, Sade Jemmott, General Counsel of Bitt, explained that "…none of this would have been possible without the BEF, in particular. It not only facilitated the first ever digital dollar event in Barbados, but essentially introduced us to its strategic partners and initiated a conversation which evolved into this MOU."
Speaking on behalf of the BEF, David Simpson added that while the foundation did not participate actively in the negotiation process, it appreciated the utility of the mMoney application, especially in the current economic climate of Barbados, and was happy to see a private sector response to the unique challenges and needs of this special subsection of the business community.
mMoney is a locally developed digital financial solution – mobile money – and is not the same as mobile banking. While they both must observe compliance with Know Your Customer (KYC) regulations, the main distinction between the two is that mobile banking requires that customers have a traditional account at a licensed financial institution, commercial bank or credit union. Mobile money, on the other hand, facilitates the sending, receipt and storage of digital currency using an 'app', without an account at a traditional financial institution. When asked why this distinction was important, Adams emphasized that "…by eliminating the need for a traditional account, the mMoney application is inherently more accessible and attractive to the unbanked and underbanked."